| | |
| --- | --- |
| | Searching for Works |

| | |
| --- | --- |
| | Table of Contents |

| | |
| --- | --- |
| | Managing Accounts |
---
Logging In and Logging Out
You do not need to log in to use most of WordHoard's features. In fact, we don't even require that you have an account to use most of the program. Anyone who wishes to use the program to read the works and do searches and calculations is welcome to do so.
You only need to log in if you want to save information. In the current version of the program, this includes saving queries, work sets, word sets, and creating annotations.
Before you can log in, a WordHoard system administrator must create an account for you on the system.
Scholars who wish to get an account on the Northwestern University WordHoard system should send a request via email to Martin Mueller. Students in NU classes that use WordHoard usually have accounts set up for them by the instructor.
To log in, use the "Login" command in the "File" menu: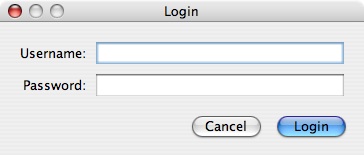 For people at Northwestern University who have been assigned accounts by a system administrator, use your regular NU netid and password. For other people, use the username and password assigned to you by the system administrator.
Once you have successfully logged in, you will be able to save queries, save work and word sets, and create annotations.
When you are logged in, the "Logout xxx" command in the "File" menu is enabled, where "xxx" is your username. Use this command if you wish to log out. You are also automatically logged out when you quit the program.
---
| | |
| --- | --- |
| | Searching for Works |

| | |
| --- | --- |
| | Table of Contents |

| | |
| --- | --- |
| | Managing Accounts |