| | |
| --- | --- |
| | Getting Information about Words |

| | |
| --- | --- |
| | Table of Contents |

| | |
| --- | --- |
| | Getting Information about Lemmas |
---
Lexicons
Each corpus has a lexicon which lists all of the lemmas used in the corpus. To open a lexicon, use the appropriate command in the "Windows" menu: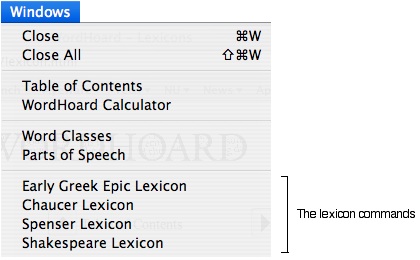 The following example shows the Shakespeare lexicon window: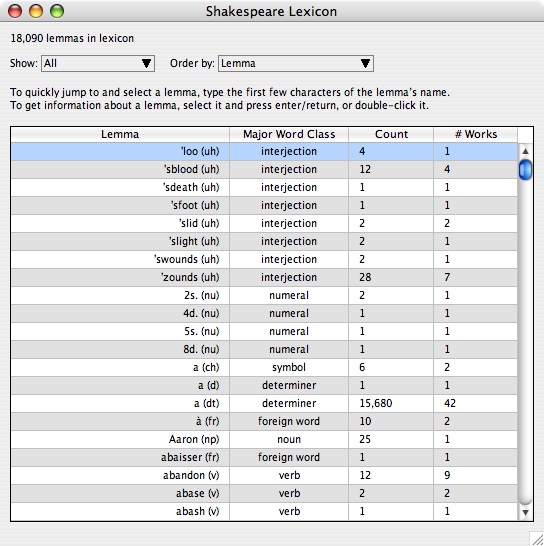 This window presents all 18,090 lemmas used in Shakespeare in a tabular format. Each row of the table displays the lemma name, its major word class, the number of times the lemma appears in the corpus, and the number of works in which the lemma appears.
By default, all lemmas are shown, and they are ordered alphabetically by the lemma name. To filter the lemmas to show only the ones for a particular major word class, use the "Show" popup menu. To specify an ordering for the table, use the "Order by" popup menu.
The following example shows the Shakespeare lexicon filtered to show only the nouns, in decreasing order by count.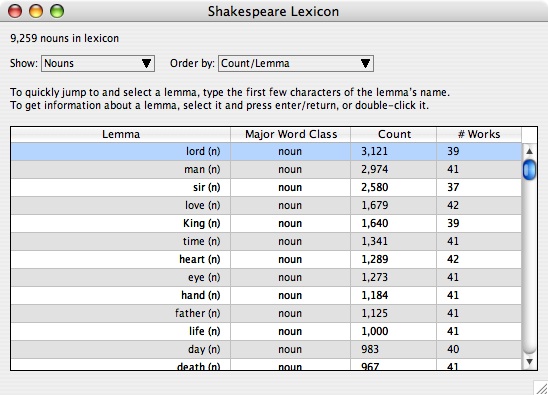 We can see, for example, that the most frequently used noun in Shakespeare is "lord," followed closely by "man" and "sir." Does this tell us anything interesting about Shakespeare or perhaps the time in which he wrote, albeit fairly trivial and not altogether unexpected? Perhaps - you be the judge. The fact that "love" is the fourth most frequently used noun is also most likely no surprise to readers of Shakespeare.
To quickly jump to and select a lemma, type the first few characters of the lemma's name. This feature works most gracefully when the list is ordered alphabetically.
The lexicon for the Early Greek Epic corpus is in Greek: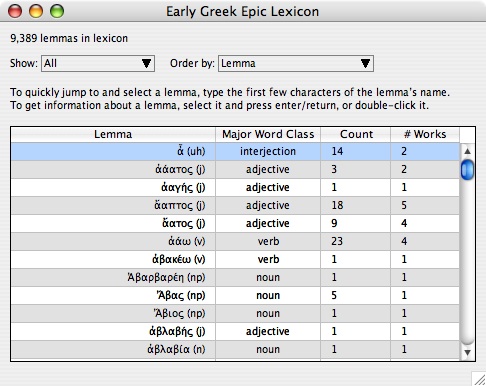 Typing to select lemmas in this lexicon is a bit awkward, because you must type in the Greek alphabet, not the English alphabet. See Typing Greek. Fortunately, however, you do not need to worry about all of the accent and breathing marks. For example, typing "kappa alpha" jumps to and selects the first lemma that starts with any form of these two letters.
---
| | |
| --- | --- |
| | Getting Information about Words |

| | |
| --- | --- |
| | Table of Contents |

| | |
| --- | --- |
| | Getting Information about Lemmas |